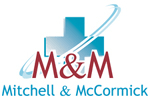 Mitchell & McCormick, Inc., now in its 26th year of serving the information technology needs of human services organizations, is the leading provider of software and solutions to public health and behavioral health agencies. Their Visual HealthNet platform provides the foundation for superior information solutions to these agencies. Visual HealthNet solutions are serving public health and behavioral health agencies in a wide variety of regulatory environments.

Superior service can only be provided by excellent staff. Mitchell & McCormick employs staff with specific industry experience in public and behavioral health. This experience comes from clinical, administrative, and information technology positions and is complemented by the best of certified public accountants, systems analysts, programmers, and networking specialists.

Mitchell & McCormick partners with the best of the information technology industry. Visual HealthNet utilizes operating systems, relational database management software, and hardware platforms from the most innovative of technology companies. These strategic partnerships, in conjunction with the superior service and staff, enable Mitchell & McCormick to provide superior solutions to their customers, systems that are best positioned to address the information needs of today, whether in the business office, in the clinic, or for compliance reporting.